INNOVATIVE RAINWATER AND GREYWATER HARVESTING SYSTEM FOR COMMERCIAL AND RESIDENTIAL USE

This yard has over 6,000 gallons of Harvested Rainwater Hidden away!!
Made in California

100% Recylable (HDPE) Polyethylene

~30 Year Life Expectancy

Wood, Faux Stone, and Natural Exterior Options
Hides in Plain Sight

Cheaper than Underground Storage

More Efficient and Attractive than Above Ground Options

Extremely Sturdy: Cost Effective Security Fence Withstanding Wind and Earthquakes
Shutoff Valves on Every Tank

Easily Connects to Irrigation Systems

Water Can Be Redirected Back to Roof For Fire Protection

UV Treated for Sun Protection
Hidden From View
Customizable inserts can be attached to the interconnected tanks to give the fence a wood or stone finish or simply attach a wire lattice and let plants naturally grow for an attractive living wall. The facade's design can be replaced with a different look at any time, for example after a change in ownership of the business or home.
How WaterFence Works
The original concept of WaterFence is simple: Rain falls on the roof of a home or office building and is guided to a fill-point on the fence, where it is stored in an opaque and closed system that prevents biological growth, bugs, or rodents from contaminating the water. One inch of rain on 2,000 square feet of roofing can harvest approximately 1,200 gallons of water. Each 7′ x 6′ x 15″ fence section can hold 240 gallons of water and is made of 100% recyclable (HDPE) polyethylene.  
About the Inventor of Waterfence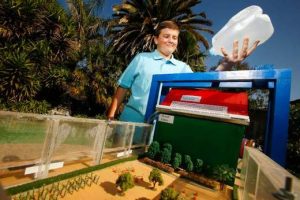 Steven McDowell has been an inventor since the age of 14. Steven has three patents with more in the works. WaterFence began as a simple assignment from a 9th grade science teacher. Upon receiving the assignment, Steven boldly announced to his science teacher that his intention was to "solve California's drought problem." WaterFence went on to win several juried competitions, including: The Greenbuild Expo; the IBS International Builders Show; and Sonoma State University where the professors were so impressed that they applied for the University to immediately order the product.
Steven is now attending college, he is enjoying online gaming and has taught himself how to ice skate and play Hockey and with no previous Ice Skating experience he made his college Hockey team. Nothing is beyond the reach of this amazing young man!!!
Contact Us
If you're in California, Oregon, Washington, Hawaii, or if you're outside the US then contact Ken by filling up the form below.
If you're in Texas, Arizona, New Mexico, Oklahoma, or anywhere else in the southwest then contact Tony by filling up the form below.